Just in time for Christmas baking!
For those of you who like your gingerbread men to pack a bit of a punch, this recipe is for you! The dough has a little more spice which makes for wonderfully delightful and flavorful Christmas cookies. And perhaps I never knew to make icing this way, but I used an icing recipe that's made with a meringue base, so it hardens up enough that it won't get smudged (my constant struggle with icing cookies) but it doesn't turn into plaster either. I made two batches last sunday for visiting teachees and Joey and his roommates, and they were all gone within just a day or two!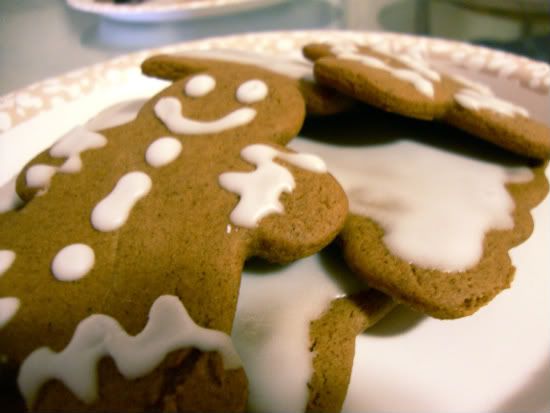 Spiced and Iced Gingerbread Men
Cookie recipe adapted from Allrecipes
1/2 cup butter

1/2 cup sugar

1/2 cup molasses

1 egg yolk

2 cups sifted all-purpose flour

1/2 teaspoon salt

1/2 teaspoon baking powder

1/2 teaspoon baking soda

1/2 teaspoon ground cinnamon

1 teaspoon ground cloves

1 teaspoon ginger

1/2 teaspoon ground nutmeg
2 large egg whites or 5 tablespoons meringue powder

2 teaspoons fresh lemon juice or 1 teaspoon vanilla extract

3 cups confectioners' sugar, sifted
In a large bowl, cream together the butter and sugar until smooth. Stir in molasses and egg yolk. Combine the flour, salt, baking powder, baking soda, cinnamon, cloves, ginger, and nutmeg; blend into the molasses mixture until smooth. If your dough is too sticky, slowly add a little more flour until it reaches a texture you like. Cover, and chill for at least one hour.

Preheat the oven to 350 degrees F (175 degrees C). On a lightly floured surface, roll the dough out to 1/4 inch thickness. Cut into desired shapes with cookie cutters. Place cookies 2 inches apart on ungreased cookie sheets.

Bake for 7-10 minutes in the preheated oven, until firm. I recommend watching the first batch very carefully to know how long they need to bake for--my oven gets a little warmer and I like softer gingerbread, so I only cooked them for 6 minutes. Remove from cookie sheets to cool on wire racks.

For icing the cookies: With a hand mixer, beat the egg whites with the lemon juice or extract until frothy. Add the sifted powdered sugar and beat on low speed until combined, smooth, and shiny. Turn to high and beat approximately 5 minutes till stiff and glossy. Add food coloring, if desired, and transfer to a pastry bag to pipe onto cookies.
Enjoy--and get ready to ruin your diet!