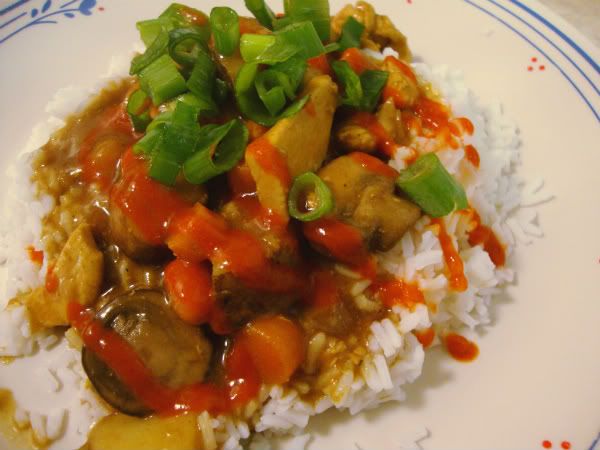 About three years ago I went with my friend Katie to Washington DC to visit the
temple
, and while we were there we stayed with her parents. Her dad (who coincidentally taught at Power School in Charleston SC, where Joey and I are headed next year!) served his mission in Japan and made us Japanese curry for dinner. Oh boy was it delicious!
Fast forward a couple years and I'm at the commissary, and I spot the
curry mix
Katie's dad had used...I wasn't sure what I was going to do with it, but I knew I had to buy it! I started to remember what Katie's dad had put in his curry, added a couple extras, and now--Joey and I have a favorite meal. The great thing about this recipe is that you can toss in any veggies you like and forget the ones you don't. A couple chicken breasts and potatoes and a handful of each diced veggie stretches so far in this recipe too. Whats better is, you can stretch the curry sauce even further by adding some more water (maybe up to a 1 1/2 cups more), so you can feed an extra guest or two!
So, here's the recipe:
Dice potatoes, onions, and carrots and cook in a tbsp or two of oil. I don't have an exact amount of veggies, Joey and I just cook what we need at the time. The great thing about this is that a couple potatoes and carrots and half an onion will stretch very far!
Once the carrots and potatoes begin to soften, add thawed chicken breasts cut into bight size pieces. Cook until its barely done, then add sliced mushrooms.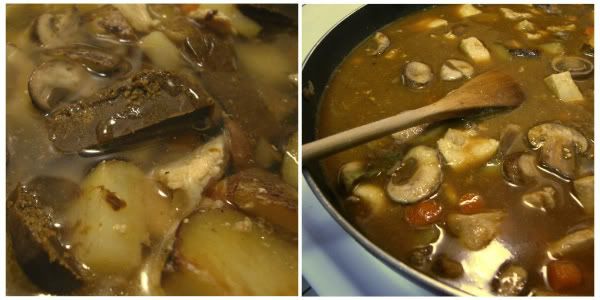 Add 2 1/2 cups of water and the
curry mix
blocks. Yes, it'll look a little weird. Dissolve the mix into the water, and bring the sauce to a boil. Reduce the heat, simmer, and cover.
What we do with a baking sheet when we don't have any lids that fit our pans.
Let the sauce thicken to a consistency you like. This is when we normally add a couple handfuls of frozen peas but we forgot them this time.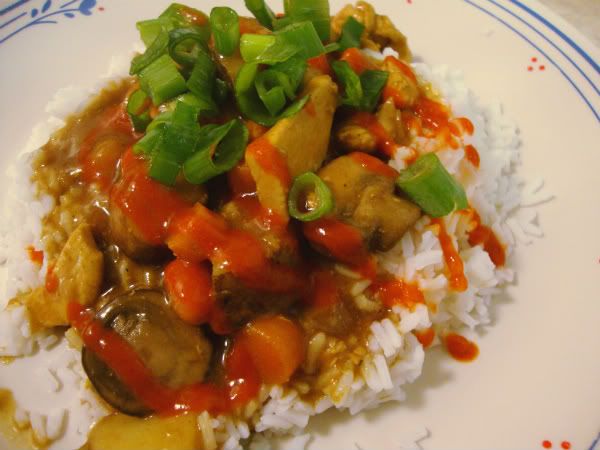 Serve curry over a pile of rice, drizzle some Sriracha (the curry mix comes in mild or hot but we like a little more kick), and top with sliced green onion.
ENJOY!