Unfortunately he was super duper sick on his actual birthday (and our anniversary. Someday we'll have a normal anniversary...) so we waited a few days to celebrate his birthday until he was feeling better. After all, having one's first birthday cake (or in his case, cupcake) is an important event! Plus we had already gone to the
zoo
and his
first baseball game
in the weeks before as part of his birthday + our anniversary celebration, so we decided to do this last activity at our own pace.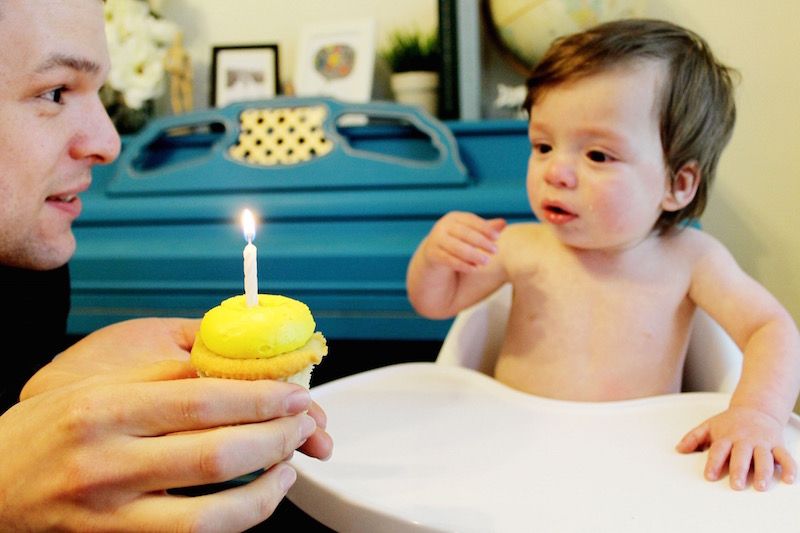 Daddy helped Curran blow out his candle
We ordered some cupcakes from Georgetown Cupcake for Mother's Day and our anniversary, so Curran got to have an extra special cupcake for his birthday. The significance may be lost on him, but we're still glad he got to have a taste of something important to us and our time in Virginia. Curran also really likes to give Joey tastes of his food. He never shares with me, but he and Daddy are buds when its meal time.
Yeah. This is how most of his cupcake smash went. It reminded me of all the times my mom tried to have a special moment or photo as a family and someone was mad or another was crying while a third refused to smile. And suddenly I felt my life had come full circle as I now just wanted one darn happy cupcake smash for his first birthday. So, sorry for all the moments us kids ruined, mom!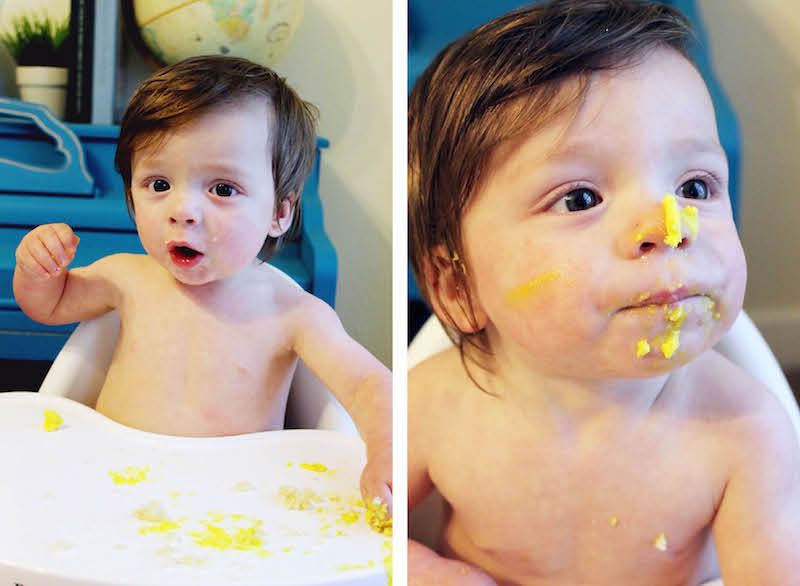 Once he finally stopped crying and actually gave the cupcake a taste he was actually rather pleased, even more so to rub that yellow frosting all over his tray.
And there's our happy boy!
Oh my dear Curran, we're so glad you're part of this family! Being your parents has been really, really hard, but so amazing. Watching you grow and discover new things is the most rewarding part of my day. I never thought I'd cheer and sing "Go Curran, Go Curran!" while a person ate a blackberry. But helping you overcome the challenges you face fills my heart with so much love for your little self. You make us laugh with your silly smiles and the way you dance and the way you chase the pets as you giggle. You're a strong, brave little boy and we can't wait to see the man you grow up to be. Your name means hero, and you are certainly that to us.
Here's to a second year full of even more fun and exploring, bugaboo!