I am happy to share some of the preview photos from our engagement shoot on Saturday with Brinn Willis of
BMW Photography
! It was such a joy working with Brinn again, and despite my nervousness prior to the shoot, Joey and I had so much fun with her and turned out to be a great de-stressor. What a wonderful afternoon!
I absolutely loved the idea of a canoe or boat--lucky for us, Brinn (you know, that awesome woman that took our awesome photos) had one, and though we were so worried about tipping over, I am beyond glad that we were able to include something so fun and unique.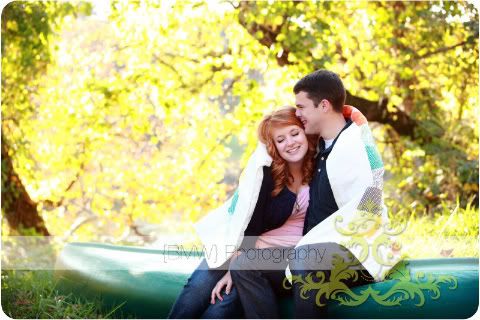 I wanted to make a quilt for Joey and I to use in our engagement photos. I bought fabric in our wedding colors and spent the week before the shoot cutting over 100 squares and putting it together. To finish it, I hand stitched our names and a big 'F' for Fleshman in one of the corners.
After scoping out the trees we were able to find a spot to hang my refashioned "chandelier" from
this post.
This is also the blue lace dress I mentioned in
this post
. Determined to sew a successful dress I made a mock up out of muslin, fit it just right, and made my own pattern pieces to ensure a perfect fit (which was great since I bought the original pattern in 2003 and the back pattern piece was nowhere to be found!). Don't worry, another post with photos of the dress is already in the works.
And did you notice my hair piece? I brought Joey's tie with me to the fabric store to find just the right green, and made the silk accessory the night before the shoot. What's more, no sewing machine required--all you need is a glue gun and a lighter!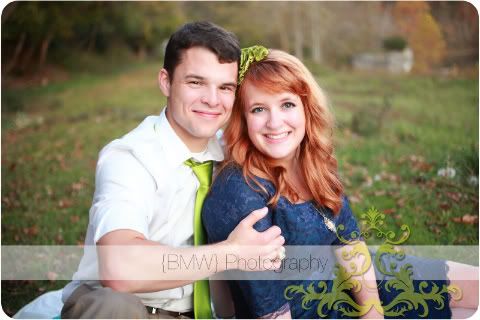 I also chose to wear my cameo that I bought at a flea market in Siena, Italy. Its simply gorgeous and I just had to show off my authentic Italian, vintage find.


My final (and last minute) project was a couple signs: one for me that said "I said Yes", and another for Joey that said, "She said Yes".
Call me excessive, but I loved every minute of sewing, thrifting, crafting, painting, and designing, and I truly adore the way everything turned out. I'm so excited to see the rest of our photos (did I mention that they're by
Brinn Willis
?), and even more excited to marry the greatest guy around!