Friends, I am beyond excited about this post and the little project I did this afternoon...!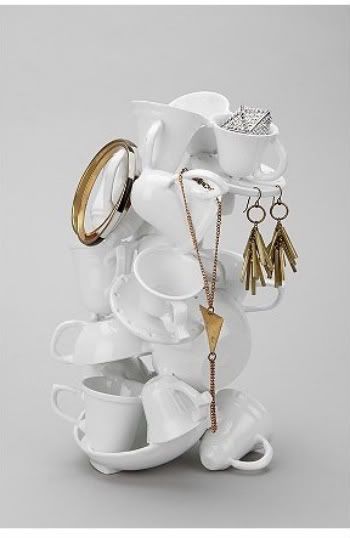 ...and I simply adored it. But my wallet didn't adore the $70 price tag! Though its now on clearance for a
meager
$35, I still can't justify spending more on a container for my jewelry that probably doesn't cost that much combined.
And then it hit me--why don't I just make my own tea cup inspired piece?!
After delivering some
pumpkin cranberry muffins
to my sweet Joey, I hit up the Goodwill on the way home to find some charming cups.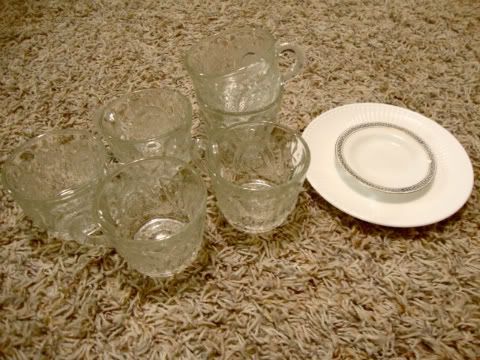 I decided upon an arrangement in my mind and then got to glue-ing! Because I'm impatient and wanted to have my new piece immediately, I only used a hot glue gun instead of super glue, but it actually held up really well and is pretty secure. Though to avoid the pain of trying to get all of the glue strings off (which, no matter how hard I try, some sneak past me) and having to work super quickly, I recommend a stronger glue, if you can stand the drying time wait.
Then it was outside to the patio with some newspaper and the left over white spray paint from my
DIY chandelier project
. I lacquered that puppy with a couple good coats of paint, and did my best to wait for it to dry.
The break down:
six glass tea cups and two glass saucers (1 of which I didn't use): $2
white spray paint and glue gun: already had
Total: $2.00. That's right, just two buckeroos for a jewelry stand I now love more than the original Urban Outfitters one, which again, was $70. Talk about savings!
So you see, with a little spray paint, a glue gun, and some Goodwill finds, you can create just about anything. Happy crafting!