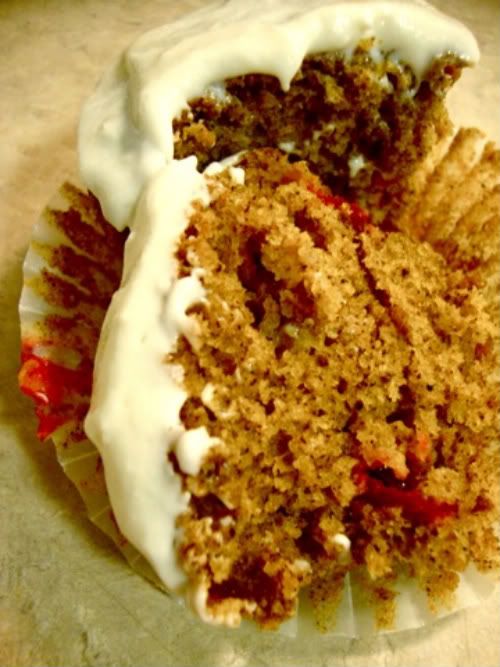 These muffins are a delicious bite of heaven - if heaven is perpetual autumn and all things fall.
You may think 'ok, here's just another pumpkin recipe, amidst dozens of other pumpkin recipes that pop up every fall'.
Well hold the phone. Because these are so fantastic. The cranberries become soft and full of flavor when they're baked, which is also complimented by the tang of the cream cheese frosting. They're also not too sweet - just enough to balance the tart cranberries - which may or may not be my downfall because it means I could eat entirely too many and never feel sick from too much sugar. Luckily I've given all of them away to dear friends, so I'm safe this time!
And because I'm so wonderful, I'm sharing my recipe for these little delights (muffin recipe adapted from
smitten kitchen
).
Pumpkin Cranberry Muffins with Cream Cheese Frosting
1 1/4 cups granulated sugar
1 1/2 cups all-purpose flour
1/2 teaspoon ground cloves
heaping 1/2 teaspoon nutmeg
2/3 cups fresh cranberries
2 teaspoons granulated sugar
8 oz cream cheese, softened
8 tablespoons butter, softened
1 cup confectioners sugar
1 teaspoon vanilla extract
Preheat oven to 350°F. Put liners in muffin cups (and I like to spray them with cooking spray so the muffin comes out of the muffin cup perfectly).
Whisk together pumpkin, oil, eggs, 1 1/4 cups sugar, baking soda, cloves, nutmeg, cinnamon, and salt in a large bowl until smooth, then whisk in flour mixture until just combined.
Wash and dry cranberries. Slice larger ones in half; toss the cranberries with 2 teaspoons of sugar to coat (I did this to cut down the sourness of the berry and it didn't make the muffins too sweet). Fold the coated cranberries into the batter.
Divide batter among muffin cups and bake until puffed and golden brown and wooden pick or skewer inserted into the center of a muffin comes out clean, 22-27 minutes.
Remove muffins from pan and cool on a wire rack.
For the Frosting:
Place softened cream cheese and butter in a medium mixing bowl and beat until smooth and well blended. Sift in confectioners sugar and continue beating until smooth. Add vanilla and lemon juice and stir to combine.
Cover the muffins with cream cheese frosting and enjoy this oh so yummy autumn treat!